CharlieSoftware.com
Charlie iPhone apps - TzConvertor (Time Zone Converter) is available in iTunes Store
More iPhone apps is coming... LearnPinYin is
here
... Finger Pool game is
here
iTunes Store Link:
http://itunes.apple.com/us/app/tzconvertor/id400435884?mt=8
Description:
"When it is Oct 28, 2010 09:00 in United States/San Francisco, what time will it be in United Kingdom/London?" Often people ask this kind of questions; especially when you work with people in different time zone, and you want to know when they say the meeting is 9:00am San Francisco time, what will it be in your time zone, vice versa. This apps converts any time from one time zone to another time zone, considering the daylight saving in. It covers about 6000 cities and regions. The city time zone data is from the latest public City Time Zones database; the region time zone data is from tz database.
The apps name of the free version is TimeZoneConvertorFree. The free version has iAds.
The apps name of the paid version is TzConvertor. It is $0.99; there is no iAds in it, and it is faster than the free version since there is no iAds and doesn't need internet connection.
Primary Category:
Productivity, Travel, Utility
Keywords:
Time Zone Converter TzConvertor TimeZoneConverter Timezone Convertor time zone calculator
Icon
TzConvertor
---
Free version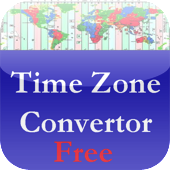 ---
Screenshots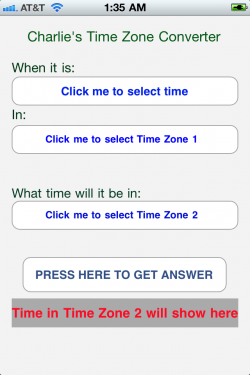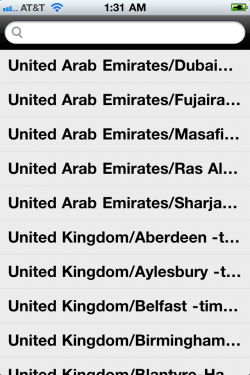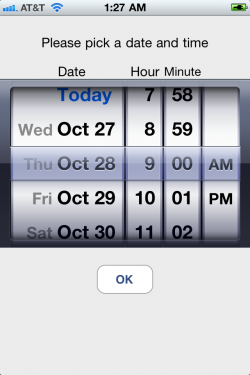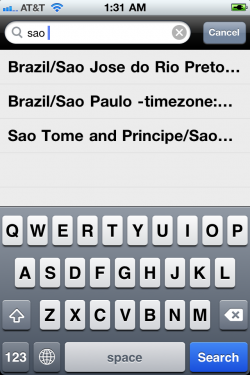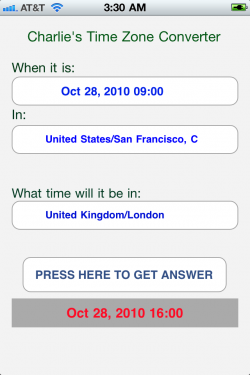 Feedback
2010 Copyright. CharlieSoftware.com